ElbrusRace
"We sit fourth day (safely, along with Jack) in c.2. Dupówa (???) interrupted route (?) to c.2. Other expeditions lazy in B.C. "
Yours! Ola
(?)- I do not understand translation quite clearly :(
Dear Polish friends what does it mean "Dupówa"?????
Naj Iksworomok explained us: -"It means very,very,very bad weather :) Dupa = ass"
So girls are having now indeed VERY bad weather....
Add a comment
July 5 by Masha was sent a short SMS message "have climbed to camp 1, tomorrow plan to climb to Camp 2."
After the last climb to Camp 2 girls descended to the Base Camp for the rest. At this time there was a terrible storm. Now there is a short weather "window", perhaps it will help our "fast young ladies" (as they called on the U.S. site) to have time to acclimate at C3.
(Women's climbing team - Ternua Gasherbrums 2011 - consists of Alexandra Djik(Poland) and Maria Hitrikova (Ukraine). Their goal is to climb 2 of nearby located Karokarum's peaks : Gasherbrum II (8035m above sea level) and in alpine style Hidden Peak (8068m above sea level))
Add a comment
Welcome back

home!

St. Petersburg

's

climbers

made

an incredible

climb of

Latok

III
On video: meeting at Moscow airport
Add a comment
June 27

Masha

Hitrikova is

21 years

.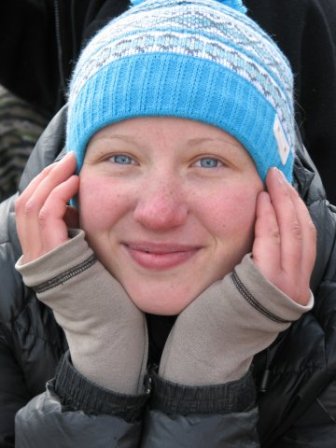 Happy birth day, Masha!
The girls
(Ola and Masha)
were celebrating
it at
an altitude of
6450
meters,
Gasherbrum
2
camp
2,
where
they climbed
the very first
of the season.
Add a comment
Congratulations to Tramontana on opening a climbing gym!
Congratulations to our friends and partners Larisa Savchenko and AlexanderRodicheva with the opening of climbing center "Tramontana" - the largest and mostmodern in Saint-Petersburg! The new climbing wall is located in the heart of St. Petersburg in 5-minute walk from Cape Institute of Technology.
Add a comment
Page 18 of 33
«
Start
Prev
11
12
13
14
15
16
17
18
19
20
Next
End
»